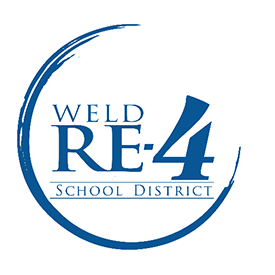 The Weld RE-4 School District, serving the Windsor and Severance communities, is dedicated to educational experiences that inspire innovation and empower success for all learners. We are committed to providing rich learning experiences through project-based learning, volunteerism, internships and apprenticeships by continuing to build critical partnerships with local, regional, national and international businesses, as well as post-secondary institutions.  Through these partnerships, students are able to contribute locally today, and lead positive community development on a global scale in the future.
Mission:  Inspiring Innovation, Empowering Success
Connecting with the wider community is one of the five focus areas of our vision which also includes learning, teaching, professional development and leadership.
The Weld RE-4 School District is engaged in a variety of work-based learning opportunities, including:  Job Fairs, Career/Industry Presentations, Internships/Work Experience, Informational Interviews, Job Shadows, Onsite Career Tours, Registered Apprenticeships, Clinicals/Externships, On-The-Job Training, as well as authentic Project-Based Learning.
The Weld RE-4 School District is involved in the Work-Based Learning Alliance as one approach to build critical and reciprocal partnerships to ensure career readiness for all students.
Our approach to learning in the Weld RE-4 School District involves positioning our students for meaningful and relevant engagement specific to individual learners, preparing students for the demands of a modern workforce and ever-evolving society.
Student experiences are wide ranging in the Weld RE-4 Work-Based Learning program.  "As employees with our organization, these students are part of our team," said partner Sherry Unruh of the Sherry Unruh Allstate Agency.  "I love working with young people and sharing my knowledge of insurance.  They are hardworking and bring excited energy to our workplace.  It's been a very rewarding experience for my team."
"My experience in the program has been life changing.  I have been introduced to the business world and enjoyed the change of scenery from the classroom to the office," said former student Andre del Angel, who worked for the Sherry Unruh Allstate Agency.  "The combined knowledge I gained from the workplace and the class has helped me become more confident.  I am ready for the future and to start my life after high school."
The Weld RE-4 School District's Work-Based Learning program links our students to career pathways and provides opportunities to explore careers of interest, helping guide long-term career aspirations while immediately helping students make informed decisions about life after high school.
Our local and regional businesses and communities also benefit from engagement in Work-Based Learning opportunities by closing the skills gap and developing a talent pipeline, as students can envision themselves living and working within the community.
The Weld RE-4 School District welcomes the opportunity to partner with local and regional businesses as we work to provide experiences throughout the Work-Based Learning continuum.