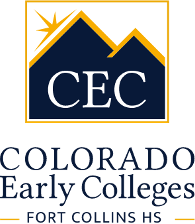 COLORADO EARLY COLLEGES
CEC Mission: Each student, regardless of background or skill level, will have the opportunity to pursue a growth mindset that will allow them to achieve mastery and to demonstrate they can succeed in school, in college, and in their chosen career. No exceptions. No excuses.
Colorado Early Colleges Fort Collins High School (CECFC) was founded in 2012 as a tuition-free, open enrollment public charter high school. As an early college high school, CECFC's academic program is designed to allow students who complete the curriculum to earn college degrees and career and technical credentials at no cost to families.
CECFC works with industry partners to provide our students with various work-based learning opportunities. These include company tours, industry sponsored projects, job shadows, job opportunities, internships, apprenticeships and volunteer opportunities.
As an early college our students work at an accelerated pace to obtain the skills, they need to be successful in college and the workforce at a much younger age. When students are academically ready, they are typically taking college level courses and have developed an advanced level of maturity and independence.
Work-based learning offers our students the experience to learn and cultivate skills in today's rapidly changing world. Students are introduced to a variety of industry sectors and experience job introductions they may have generally not been exposed to. WBL is a vital component of the education we provide our students. We work closely with several advisory boards to align what we are teaching our students with industry needs and to ensure that we are providing our community with the workforce they need.
To get in touch with us, email: